The Western sand dollar Dendraster excemtricus, an Echinoderm and a close relative of sea urchins and more distantly of starfish, lives in dense beds in the quieter waters on the western side of Netarts Bay. More than a hundred individuals may occupy a square meter.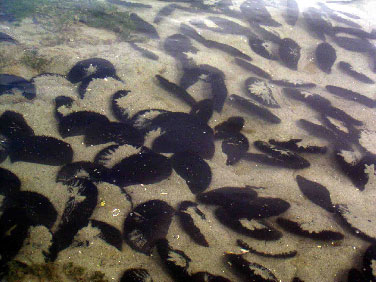 There are also offshore populations of Western sand dollars that live just beyond the waves. While walking the sandy beaches between the Capes, we see many of the creamy-white shells of dead sand dollars, or tests as they are properly called, which are simply the animal's skeletons that have washed ashore.
Live sand dollars are covered with a short, rough "fur" of spines that help the animal move and feed. Individuals are flat on the bottom or "oral" side and domed on the top or "aboral" side where you will find a five-pettaled flower-like pattern of pores, the ambulacra, through which extend appendages called podia that are used in respiration. The spines of the Netarts Bay sand dollars are mostly colored dark gray or black except those on the edge with the longest petal, which are light brown. It is this edge that is usually buried in the sand.